This is bad.....
REAL BAD....
regarding mm's 9th generation member

suzuki kanon..
i rmb when she was still auditioning for 9th gen..
i said she's my least favorite because of her mole...
and i basically find her smiling a bit too much.. =x
but now...
after the 9th gen make over....
i find her cutest (within the 9th gen ofcoz)....
shit.
this shit always happened to me...
like i said how i dislike some stuff n in e end i like them...
i rmb many years ago i did say something like...

"i will not like japanese girl group..."
BUT
look at me now...
a fan boy of japanese idol morning musume..
crap.
now it happened again..
i mean.. LOOK AT HER!!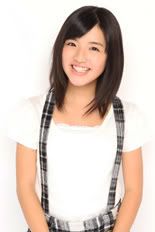 ain't she cute? =x
but i still find her mole irritating...
i wonder will they actually cover it up...
don't you think she looks better like this?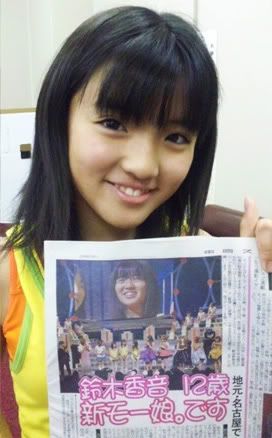 or like this?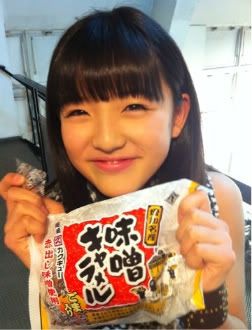 but it kinda feels like they r "cheating the fans" =x
covering a mole.. =x
lost the meaning of "nature is good" which had always stayed with mm for the past generations..
so... fine... keep that mole... i will try my best to get use to it.. -_-

but that still doesn't make me a fan of her yet...

the other 5 nin r still stick at the top of my list...

anyway
i so look forward to their new single...
better be a kick ass one..

>.<
-------------------------------
one more thing...
today met up with mj to collect some of mm stuff i bough from him..
he's like having some clearance sale...
and i bough some unopened album/singles from him..at a super good price..
and he gave me so much free gift it shocked me a bit..
thats very kind of him...
i will post the image later...
maybe next week when henry come back with my loots from japan.. =)
then i'll post them together...
anyway.. for mj..
he kinda totally lost the fandom for mm ever since eri graduate..
and oh..
he was the one who went japan with me..bringing me around all the cool places..
and went rival survival concert with me
im very thankful for that..
feel kinda lonely a mm fan gone....

a sayueri fan...
but no worries...
i will carry on the fandom for him..
the love for eri and sayu.
until the day ....