Lets wait for the next single with this 4 new blood of Morning Musume...
they have the priority ticket to my "idol list" because simply they are Morning Musume member...
*berryz n c-ute pls step aside...*
but still..dun think they will overtake any older generation member in my ranking yet
i noe for sure..my top 3...kamei..sayu..n konno is sitting DAMN stable...
no way a 9th gen will go in...
for the rest of the current 5nin too...
most to most "same ranked"...
im saying this coz im not sure wat will happen in the future..
i dun wan to draw line now like...
"9th gen go eat shit!!! NO WAY IM SUPPORTING U GIRLS!!"
n if they amaze me in the future..
then i go.. "oh... i support the 9th gen"..
it will make me sound like some idiot.. xD
i have confident in them coz they aren't that bad...
just more brainwashing..n as time goes..when they get use to how the team works..
im sure they can fit in nicely with the rest..
fuck that "age gap" bullshit...
so u r saying s/mileage cant perform with mm?
i think even some songs in the fantasy 11 already suits the younger ones...
n if e older gen can already sing those song...
cant they sing together?
tsunku is not dumb..
=D
n if mm keeps saying the 9th gen r kawaii...
then im sure they r.. =)
its something like.. if mm say
"breathing is bad for ur health...stop breathing..."
then probably u will find me dead the next day...
*erm..maybe not so extreme.. but i guess u noe wat i mean..*
so pls work harder, 9th gen!!
adding new member is to bring the group into a higher level...
if they just stay...then no point adding new member..
and oh... the 4th 9th gen member...
that egg...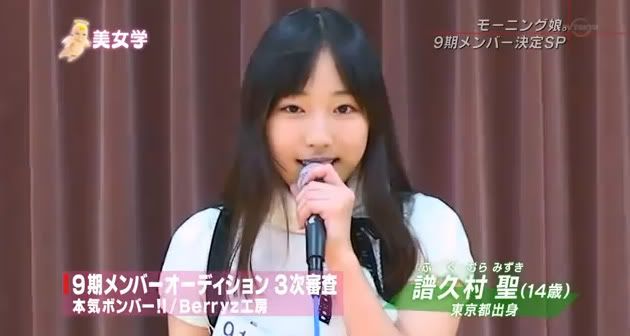 beside the fact that she's slightly "fleshy" to me...
as long she dun go beyond that point...n maybe slim down as she grow up..
she will grow into a beautiful lady...
all the 4 will....
*i think i said it 1000000 times.*
and..she can sing.. =D
im so looking forward to their next single...
n their pv!! =D
n kanon... nope.... dun think u will get center position now... maybe later.. =x
heres the announcement video...from bijo gaku...
pls watch with love..
one thing.... why e fuck do they add in those "fake fan chants..."
sound so fuck up
the actual one sounds 100 % nicer n neater...
now it feels like singaporean watching their concert...
idol come out...scream..
idol performing...scream...
idol talking...scream..
idol leaving.. scream...
then complain sore throat..
-_-