it almost scare the shit out of me when i heard theres a crazy earthquake in japan..
y?
y am i scared even though singapore is not affected at all?
the reason is simple...
coz my god damn mm IS IN THAT COUNTRY.
but still...mm n konkon's manager tweet-ed that they r fine..
so...
thats a good news... >.<
but still... no news of kamei..
it sux after she left..she leave no contact of wat so ever shit for e fans to find out how is she doing..
eririn is too lazy to update a blog..
too lazy to tweet
too lazy to DO ANYTHING BESIDE SLEEPING!!!!!! *0*
TATS BAD..
hope sayu will blog about eri's status soon...
sayu is like the only link for the fans to noe how eri is now..
"loving u forever..."
>.<
next....
still... my pb n dvd not yet arrived ...
i hope they r not under the sea now.. -_-
and lastly...
check this out...
longer preview of mm's latest single...
its just one min plus... i hope the full version would have some other scene...
but i gt a bad feeling about it... >.<
lets wait till the full pv is out..then we shall comment on it...
anyway.... did u guys feel laggy?
the web seems to be sooooo laggy...
making me hard to even load my blog page quick... >.<
and oh... one last thing...
look at this news article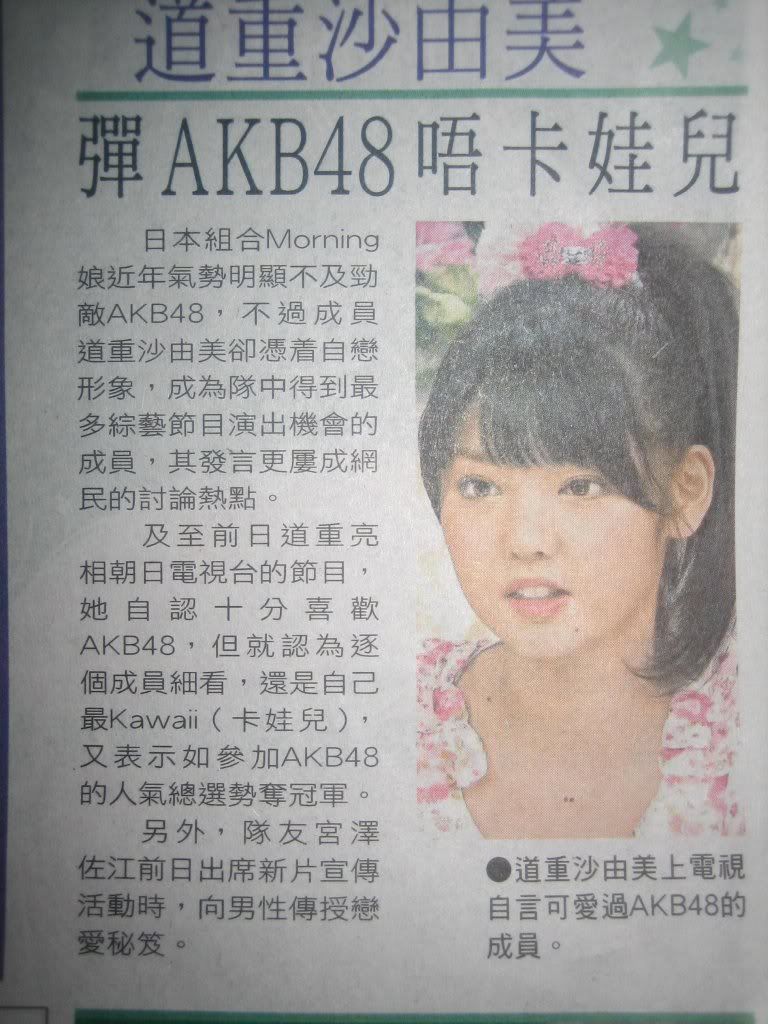 its in chinese...dunno where is it from..but anyway...
its about sayu saying that she is cuter then akb members...
n ppl on web start to be "active"
n shit like tat,,,
but still...
isn't she cute?
YES SAYU U R CUTER THEN AKB!!!
*note*.im not akb hater....
just that im a sayu fan...
ofcoz i'll side sayu 100%.
Dun really like her making herself a bitch...
but she always do that when she went on tv shows...
n the fucking haters will start scolding her...
i dun like that..
but that article still made me laughed a bit...
xD
MICHISHIGE SAYUMI FTW.
*no wonder there's this crazy earthquake in japan...
mm's cuteness is too strong for the land to take it...*